At the turn of the 20th century the world was on the brink of dramatic change. Political, scientific, and cultural revolution fundamentally turned the world upside down and changed reality. During this period – art was changing too.
Hilma af Klint was an abstract artist before the term existed. She was a visionary, revolutionary figure who was inspired by spiritualism, modern science, and the wonders of the natural world around her. Here we get to know Hilma af Klint better, the female artist who worked to make the invisible – visible.
Royal Academy Grad
Hilma af Klint was a Swedish artist and mystic born in Sweden in October 26, 1862 – October 21, 1944, descended from a distinguished clan of naval heroes and maritime cartographers. Af Klint was among the earliest women to attend and study at the Royal Academy of Fine Arts in Stockholm at the age of twenty. She graduated with honors in 1887.  During her studies she created mainly botanical studies and portrait and landscape paintings, however her interest and experience with spiritualism and the science of the day is what really sparked her interest in art.
Family Tragedies
In 1880 af Klint's younger sister Hermina sadly died, which spurred her involvement in spiritualism. In particular she became interested in the Theosophy of Madame Blavatsky and the philosophy of Christian Rosencreutz. At the time these modes of spiritual engagement were widely popular across Europe and the United States—especially artistic circles as people sought to reconcile long-held religious beliefs with scientific advances.
Let`s Get Spiritual
During her studies at the Academy of Fine Arts she met Anna Cassel, the first of the four like minded women with whom she later formed a group called "The Five" (De Fem). The group of artists who all shared the same ideas on spiritualism were particularly interested in the paranormal and regularly organised spiritistic séances. They recorded their completely new system of mystical thoughts in a book, in the form of messages from higher spirits called The High Masters. Alongside their book of recordings af Klint would also let the High Masters guide her artworks. In her artwork she explored world religions, atoms, and the plant world. As she became more familiar with this form of expression, Hilma af Klint was assigned by the High Masters to create the paintings for the "Temple".  The Paintings for the Temple, produced between 1906 and 1915 reflect an effort to articulate mystical views of reality. The works of the temple are wide-ranging in style, including both biomorphic and geometric forms, expansive and intimate scales, and maximalist and reductivist approaches to composition and color. She imagined installing these works in a spiral temple one day, though this plan never came to fruition, however some like to think it did when her work was displayed in the Guggenheim after her death.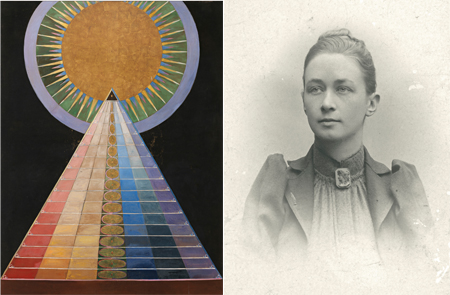 While working on this series af Klint felt she was being directed by a force that would literally guide her hand. She wrote in her notebook:
The pictures were painted directly through me, without any preliminary drawings, and with great force. I had no idea what the paintings were supposed to depict; nevertheless I worked swiftly and surely, without changing a single brush stroke.
There was a similar interest in spirituality by other artists during this same period, including Wassily Kandinsky, Piet Mondrian, Kasimir Malevitch, and the French Nabis, in which many, like af Klint, were inspired by the Theosophical Movement. A considerable body of her abstract work predates the first purely abstract compositions by the likes of of her male contemporaries mentioned above.
Girls Night In
Yet while many of her better-known contemporaries published manifestos and exhibited widely, af Klint kept her groundbreaking paintings largely private. In fact, throughout her career that spanned six decades af Klint never dared to show her abstract work to the public because she thought that her work was not ready to be shown, or understood at that time. More than 1200 paintings and drawings were carefully stored away in her atelier, waiting for the future.
She died in the fall of 1944, leaving behind 1,300 non-figurative works that had never been shown during her lifetime. The artist specified in her will that the work be kept secret for at least 20 years after her death and never be split up.
Hilma on Show
Hilma af Klint's (1862-1944) international debut was at the 1986 The Spiritual in Art: Abstract Paintings 1890–1985 exhibition at the Los Angeles County Museum of Art. The exhibition, which travelled to Chicago and to the Hague in the Netherlands, marked the beginning of Hilma af Klint's international recognition. Her works have since been displayed in numerous exhibitions in the Nordic countries, Europe and the United States. In 2013, Moderna Museet in Stockholm held the hitherto largest retrospective of the artist, featuring some 230 paintings. In 2019, the Guggenheim held a survey of the artist's work titled Hilma af Klint: Paintings of the Future. Beyond the Visible : Hilma af Klint, a movie restrospective of her career and ourvre of work, directed by Halina Dyrschka was released in October last year, 2020.