Lee Krasner (1908 – 1984) was a key figure in American art and a pioneer of Abstract Expressionism, whose energetic work reflected the spirit of possibility in post-war New York. Here we get to know the artist – who now is being rightfully recognized for her craft before her marriage to Jackson Pollock.
'I like a canvas to breathe and be alive. Be alive is the point.'
Younger Years
Krasner was born in 1908, to Russian-Jewish émigré family in Brooklyn. At the age of 14 she decided she wanted to be an artist, applying to Washington Irving High School, which was at the time the only school that offered an art course to women in New York. Krasner was highly influenced and inspired by the opening of the Museum of Modern Art in 1929. She commented on the opening – "It was like a bomb that exploded…nothing else ever hit me that hard, until I saw Pollock's work."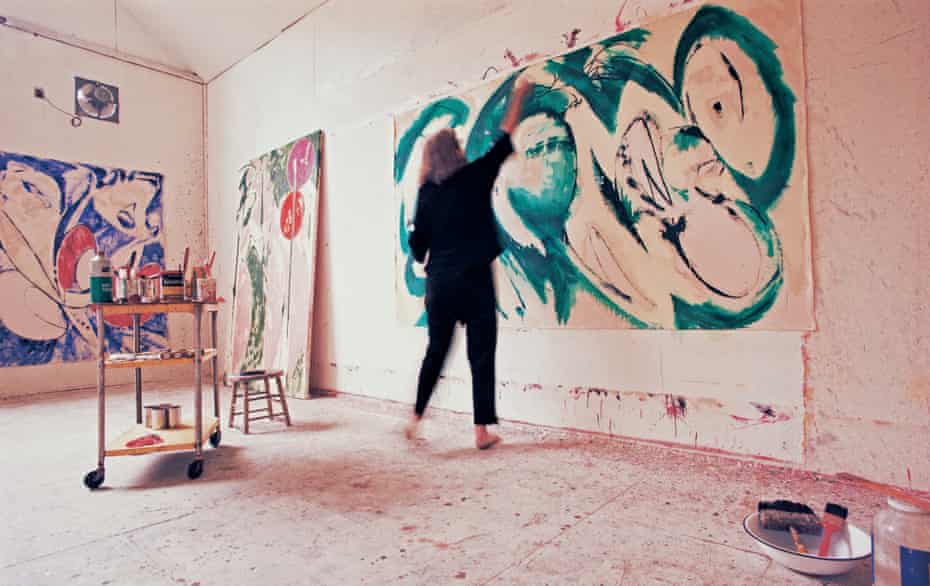 In the 1930s, she began studying modern art and in 1937 she began taking classes from Hans Hofmann, which modernized her approach to the nude and still life. During this time her work was praised by fellow artist Piet Mondrian, who she enjoyed going out to dance to jazz music with. She joined the Works Progress Administration, the Depression-era public art project in 1935, working in the mural division as an assistant to Max Spivak. In 1940 she became a member of the American Abstract Artists. While a member, she typically exhibited cubist still life in a black-gridded cloisonne style which were highly impastoed and gestural. She met future abstract expressionists Willem de Kooning, Mark Rothko, and Bradley Walker Tomlin through this organization. In many ways, she was at the centre of the burgeoning New York art world during her early career.
Her Signature Style
Unlike many of her contemporaries, Krasner refused to develop a "signature image," which she considered to be "rigid rather than being alive." One thing was for sure though, was that she was a force of nature, always pushing abstraction forward. Her work over 50 years was a cycle of reinvention, encompassing portraits, Cubist drawings, collage, assemblage, and large-scale abstract painting.
Her Meet Cute With Pollock
In 1942, both Krasner and Jackson Pollock were both exhibited at the McMillen Gallery, in New York. Krasner was intrigued by his work and plucked up the courage to go to his apartment to meet him. As their friendship grew stronger Krasner introduced Pollock to many of her artist friends and gallerists and most importantly to the art critic Clement Greenberg, who became a champion of Pollock's work. By 1945, they moved to The Springs on the outskirts of East Hampton, to escape city life and concentrate on their work, sadly Pollock was already suffering from debilitating alcoholism. In the summer of that year, they got married in a church with two witnesses. It was the start of a turbulent partnership that would go on to help and also shadow her own career.
Although many people believe that Krasner stopped working in the 1940s in order to nurture Pollock's home life and career, she never in fact stopped creating art. While the two lived in the farmhouse in The Springs, they worked in separate studio spaces with Krasner in an upstairs bedroom in the house, while Pollock worked in the barn in their garden. During this time Krasner began her breakthrough Little Images series and made mosaiced tabletops. Krasner also began working on collages—using paper and scraps from canvases she and Pollock had discarded—that demonstrated her love for Henri Matisse. By 1956, their relationship became strained. Pollock had begun struggling more with his alcoholism and was having an affair with Ruth Kligman, an American abstract artist. Krasner left in the summertime to visit friends in Europe but had to quickly return when Pollock tragically died in a car crash while she was away.
Life After Pollock
A year after Pollocks crash, Krasner moved into the barn studio that Pollock had once used to work in. While working in the barn the scale and energy of her paintings grew bigger. In 1965, she had her first solo exhibition at Whitechapel Gallery in London, and in 1975, at the Whitney Museum of American Art. She died in 1984, just a few months before her retrospective opened at MoMA. At a 2003 Christie's auction in New York, Lee Krasner's horizontal composition in oil on canvas, Celebration (1960), multiplied its presale estimate, selling for $1.9 million. In 2019, Sotheby's set a new auction record for Krasner when The Eye is the First Circle (1960) sold for $10 million to Robert Mnuchin. At the same time, ending in September 2019 The Barbican museum in London held a exhibition celebrating the work and life of Krasner. The first major presentation of her work in Europe for more than 50 years.