Julie Mehretu, was born in Addis Ababa in 1970 to an Ethiopian father and an American mother. When the military junta known as the Derg began a campaign of terror in 1977, her family fled to the United States. She now lives and works in New York City. She received a B.A. from Kalamazoo College, Michigan, studied at the University Cheik Anta Diop, Dakar Senegal, and received a Master of Fine Art with honors from The Rhode Island School of Design in 1997. The diversity and cultural complexity of the 90s, the time when she found fame as an artist was truly encapsulated in Julie Mehrutu. She played a key role in the art worlds slow diversity moving forward. She is most well known for her multi-layered paintings of abstracted landscapes on a large scale. Her paintings, drawings, and prints depict the cumulative effects of urban sociopolitical changes. In her highly worked canvases, Mehretu creates new narratives using abstracted images of cities, histories, wars and geographies with a frenetic mark making that for the artist becomes a way of signifying social agency as well suggesting an unraveling of a personal biography.
Mehretu has described her rich canvases as "story maps of no location", seeing them as pictures into an imagined, rather than actual reality. Most recently her paintings have incorporated photographic images from broadcast media which depict conflict, injustice, and social unrest. These graphic images act as intellectual and compositional points of departure; ultimately occluded on the canvas, they remain as a phantom presence in the highly abstracted gestural completed works. Blending elements of Abstract Expressionism with Pop Art, her work bears the influence of important 20th-century painters, including Wassily Kandinsky, Kazimir Malevich, and Piet Mondrian. She paints slowly – some works take a year to produce – and she wants her paintings viewed slowly too.
She has received many prestigious awards including the MacArthur Fellowship in 2005, and the U.S. Department of State Medal of Arts Award in 2015.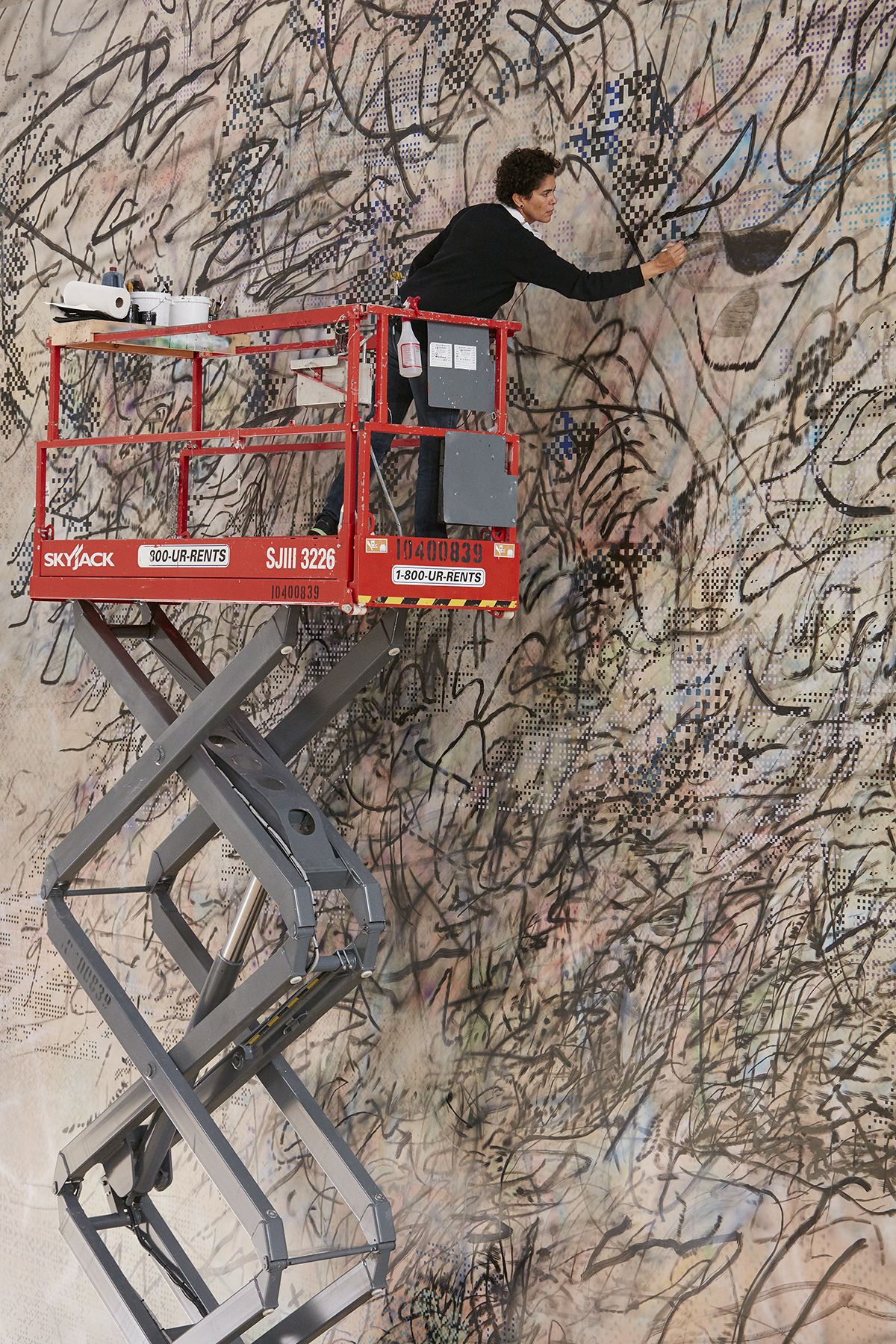 Her work has been exhibited extensively in museums and biennials including the Carnegie International (2004–05), Sydney Biennial (2006), Solomon R. Guggenheim Museum, New York (2010), dOCUMENTA (13) (2012), Sharjah Biennial (2015), Museu de Arte Contemporânea de Serralves, Porto, Portugal (2017), Kettle's Yard, University of Cambridge, UK (2019); and the 58th International Art Exhibition, La Biennale di Venezia, (2019). This year Mehretu was included in Time magazine 's 100 Most Influential People of 2020.