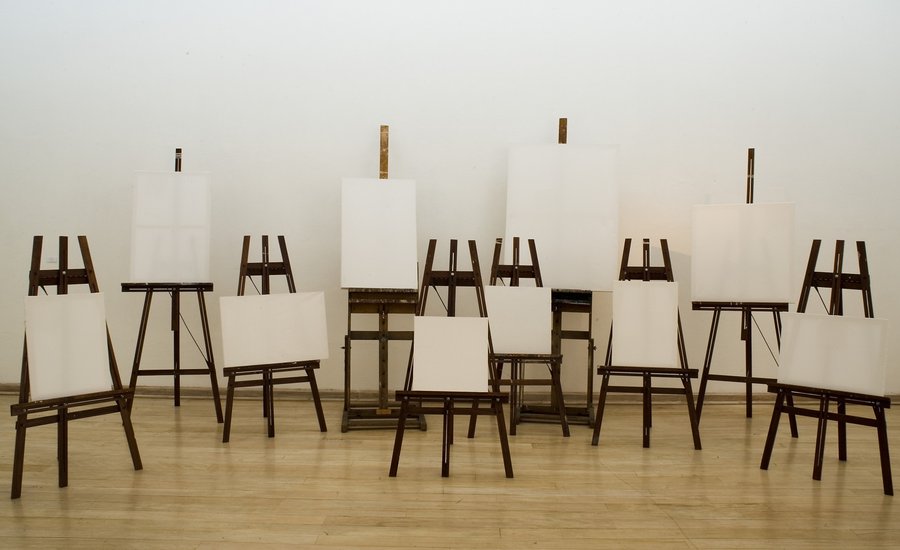 Image via Art Space
With the rising cost of tuition, it's easy to see why some people may be uncertain whether to carry on studying after school and go to university to pursue their career goals. If you have a dream to work in the arts, you may be tempted to just try it on your own without any formal education. However, it's now more important than ever to earn a degree in the arts… Why? Because the broader knowledge and understanding of the art world can help students not only learn the craft but also network, work and learn from the best in the field. A degree will also help set out the path toward an internship or a job. With so much competition out there for the same jobs and artistic attention, you need every advantage you can get. And who better to become inspired by, other than 10 of the most influential female artists to have graced our planet. Scroll down to find out where they went and what they studied.
Tracey Emin

Tracey studied fashion at Medway College of Design (now the University for the Creative Arts) (1980–82). In 1984 she went on to study printing at Maidstone Art College ( also now the University for the Creative Arts). In 1987, Tracey moved to London to study at the Royal College of Art, where in 1989 she obtained an MA in painting. For a brief period, she also studied studied philosophy at Birkbeck, University of London.
Sarah Lucas

Sarah, another prominent artist in the YBA movement left school at 16; she studied art at The Working Men's College (1982–83), London College of Printing (1983–84), and Goldsmith's College, graduating with a degree in Fine Art in 1987.
Georgia O'Keeffe

Georgia studied and ranked at the top of her class at the School of the Art Institute of Chicago from 1905 to 1906, and then the Art Students League of New York. Unhappy with what she was being taught and unable to fund further education, Georgia worked for two years as a commercial illustrator, and then spent seven years between 1911 and 1918 teaching in Virginia, Texas, and South Carolina. During that time, she studied art during the summers between 1912 and 1914. Over the next couple of years, she taught and continued her studies at the Teachers College, Columbia University in 1914 and 1915. Now that is perseverance!
Yayoi Kusama

Yayoi trained at the Kyoto School of Arts and Crafts in a traditional Japanese painting style called nihonga.
Bridget Riley

Bridget studied art at Goldsmiths College (1949–52), and later at the Royal College of Art (1952–55).
Louise Bourgeois

In 1930, Bourgeois entered the Sorbonne to study mathematics and geometry, subjects that she cherished for their stability, saying "I got peace of mind, only through the study of rules nobody could change." Her mother death in 1932, while Bourgeois was studying mathematics inspired her to abandon mathematics and to begin studying art. Bourgeois graduated from the Sorbonne in 1935. She began studying art in Paris, first at the École des Beaux-Arts and École du Louvre, and after 1932 in the independent academies of Montparnasse and Montmartre such as Académie Colarossi, Académie Ranson, Académie Julian, Académie de la Grande Chaumière.
Cindy Sherman
View this post on Instagram

The original selfie queen Cindy enrolled in the visual arts department at Buffalo State College, where she began painting in 1972, . In 1995, Cindy was the recipient of a MacArthur Fellowship. In 2013 she received an honorary doctorate degree from the Royal College of Art, London.
Chloe Wise

The art darling of today's generation graduated with a Bachelor of Fine Arts degree from Concordia University in Montreal where she studied studio art and art history.
Marina Abramović

The Serbian performance artist was a student at the Academy of Fine Arts in Belgrade from 1965 to 1970. She completed her post-graduate studies at the Academy of Fine Arts in Zagreb, SR Croatia in 1972.
Hannah Höch

In 1912 Hannah began classes at the School of Applied Arts in Berlin under the guidance of glass designer Harold Bergen. She chose the curriculum in glass design and graphic arts, rather than fine arts to please her father. In January 1915 Höch returned to Berlin to continue her studies. This time, she enrolled in a graphic arts class taught by the art nouveau artist Emil Orlik at the School of the Royal Museum of Applied Arts (later known as the State Museum of Applied Arts).
Text by Peigi Mackillop