Here we draw inspiration from the artworks by renowned Japanese creator Takashi Murakami and pick fabulous interior items to match.
Match your accent furniture to the key colours within the artwork.
Compliment your Takashi Murakami's Yellow DOB; by matching pieces of accent furniture to the colours within the work. This can be achieved easily with artwork by Murakami, as there are so many colours to choose from. Yellow is a great colour to use within the home, as it evokes feelings of happiness. As Vincent Van Gogh once said – "How wonderful yellow is. It stands for the sun."
Heart Cone Chair
This Heart Cone Chair by Vitra, will be a perfect companion to a Murakami artwork. Owing its name to a curvaceous silhouette, the chair is a modern take on the classic wing chair.
Find the Heart Cone Chair here.
Combine gory & girly
Murakami's psychedelic masterpieces can sometimes be gory and cute at the same time. In fact if you look more closely at this cheery flowers, they are actually shedding a tear. Why not mirror this contrast of themes in your home, by picking out feminine, pastel colours to go with your vibrant artwork. Another thing this interior designer has done is compliment the beautiful gold leafing in his work by decorating with some gold furniture. The Japanese blossom within this interior also goes wonderfully with the artists origins.
Element Table Square by TooGood design
This table by the upcoming TooGood design from London has gorgeous gold elements, and a simple design that has an essence of Japans simplicity within it.
Find our more about the table here
Bring the outside in
This beautiful Tondo from Murakami's Korin series really illuminates this wonderful space. Interior designers Aman and Meeks partnered this work with a beautiful floral hanging artwork in white, carrying on the floral theme indoors.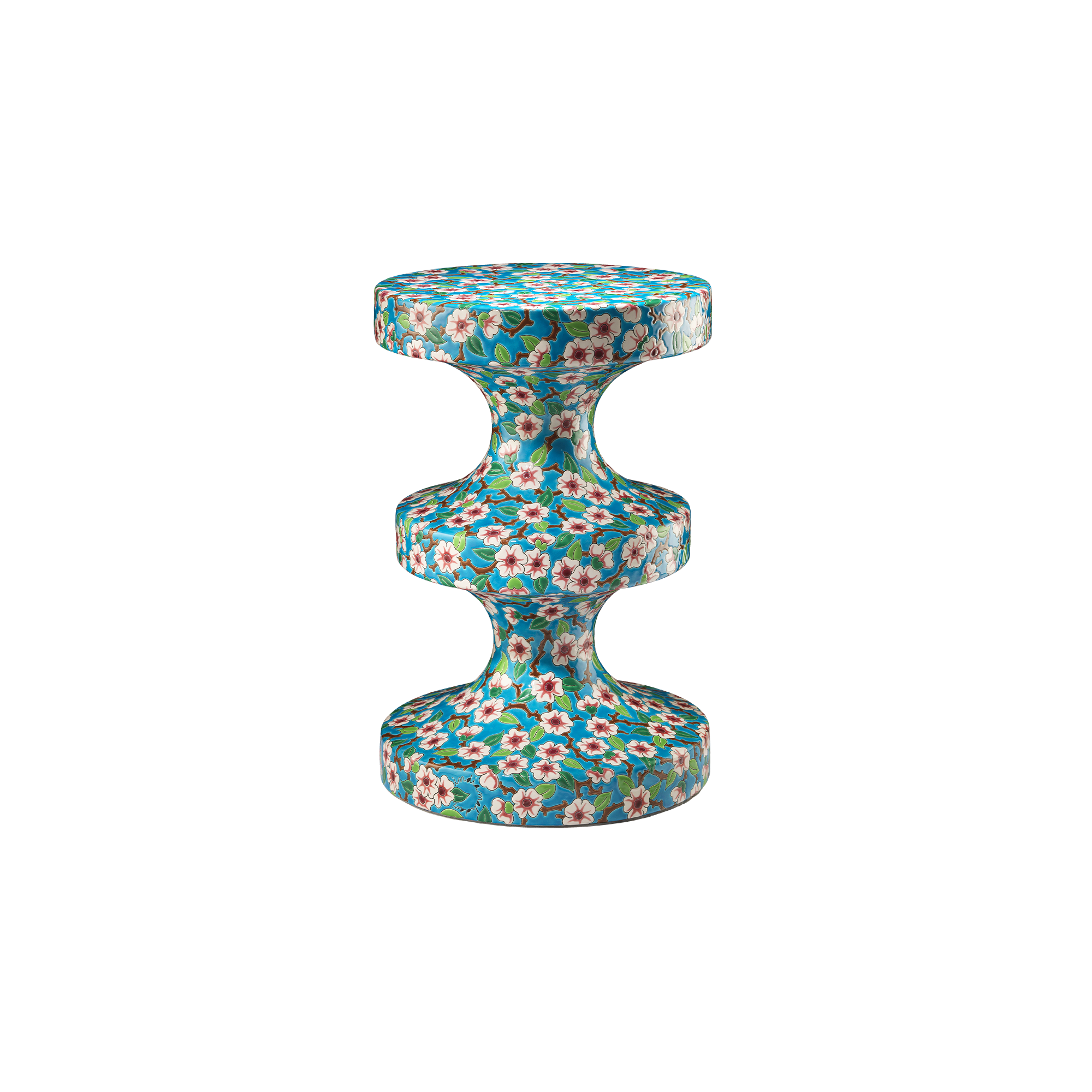 Bishop Apple Blossom
Here we have picked out a ceramic from India Mahdavi's website to compliment this artwork. Any items from the designer behind the Pink Room at Sketch London would work perfectly alongside a Murakami arwork.

Find out more here.
Murakami is a perfect addition to a child's room
How do you develop your children's art appreciation from an early age? Fill their room with art! Murakami is a wonderful artist to cheer up a youngsters room. Pictured above is the art-filled room of Brian Donnelly (a.k.a. KAWS) and Julia Chiang lucky children.
Flower Cushion (Large)
This large Flower Cushion from Dope! Gallery! via Artsy is both an artwork and a cuddly plush toy! Find out more here.
Make your Murakami the main attraction
If you are going to invest in work as breathtaking as Murakamis Flower Ball sexual violet, then you probably want it to be the statement of the room. In which case go with a more neutral tones, such as white and beige to not distract from the artwork.
Pierre Augustin Rose Sofa
This gorgeous white sofa is by Pierre Augustin Rose. Fun fact, DJ Peggy Gou has one in powder blue, which is complimented by her KAWS sculptures.
Find out more about the sofa here.
Mix the old & the new
Murakami is considered to be one of the most forward thinking artists of our time. Despite his modernity, the contract between this mid century modern interior however works perfectly. In between the scattered with gems of artworks is a Flower Ball: Koi/Red – Crowned Crane Vermilion casually resting on the back wall.
Poul Cadovius Royal System
Poul Cadovius (1911 – 2011) produced one of the most internationally successful Danish designs of the 1950s and 60s. These Poul Cadovius Royal Systems are just to so lovely and versatile, and would go perfectly in an office, with a contemporary Murakami print propped up on one of the many shelves.
This Poul Cadovius Royal System is from Forest London. Find out more here.