Image via emojipedia 
Other than flattening the curve, there are plenty of positive outcomes to being quarantined. And, this won't go one forever. But, in the meantime, find out how this time can benefit the future of the art world.
Working from home 'occasionally' is possible


Stefan Exler, 1994. Via @artxdesign Instagram
Trust us – by the time this is all over we will be glad to get back into the office and mingle with our colleagues, even Sarah from HR who was always on your back for being 5 minutes late. But what this can teach us is that we don't have to work from our office all the time. Now that you have set up your cushy work from home station and managed to actually be very productive, you have probably come to realise that WFH is completely do-able. Working from home doesn't only cut out your commute but it can give you a mental break from the noisy office and give you a productivity re-boot at times.
That your colleagues look just as beautiful au natural

Chloe Wise via her Instagram account 
Zoom meetings will give you a glimpse not only into your colleague's private homes – we see that big pile of clothes on the floor Kevin! But it will also show off how beautiful your colleagues are with their natural hair colour and without makeup once the supplies run out.
Instagram can be a great tool for selling art
No gallery or shop to sell your art in? No problem, being in quarantine has taught us that we can be our own boss. Sell your work via Instagram. Perfect your photography, choose a nice backdrop, gain some followers, et voila you are ready to set up shop.  You can sell your work quicker than it takes for the paint to dry.
You can leave your house without leaving your house…
Carolyn Bessette and JFK Jr. in Paris, April 1996 via @90sanxiety
Need to do some art research? Not only can you store books at home and have access to the big wide web. But thanks to Google you can now explore museums and galleries. Find out more here.  
That you have way too many work clothes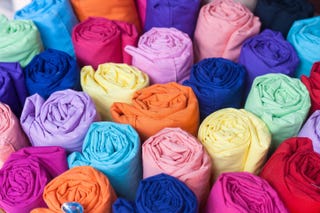 Image via Houseisbeautiful

Now that you have gone full Marie Kondo on your wardrobe and rolled your blouses into tiny sausages, you're probably thinking … I have way too many clothes. Time to chill on your spending sprees and make the most of what you have.
That meeting really could have been an email!
Mug via oditymall
At their best, meetings are motivating and help align teams and push projects, initiatives and ideas forward. But let's be serious, how often do you attend meetings like that? The easy answer is not enough. Too often, you leave a meeting thinking "that could have been done in an email." But now all your meetings are emails your managers may take the hint.
Your digital skills have improved
Image via @cancer_mood Instagram
Not having Barry from IT on speed dial to come to your rescue during this time may have been daunting at first. But with the power of google you managed to fix the problem yourself! And how great did that feel! Now when you go back into the office you will be polished and ready to tackle any tricky tech issues on your own.  You go girl!
You have become much better at communicating
Image via @manrepeller Instagram
Before quarantine it was all about WhatsApp. A simple k, sup or emoji was enough, so you thought to express the way you were feeling. How wrong we were! But now we can't get enough of hearing our nearest and dearests' voices on the phone or even seeing their faces on your screens. Why – because it makes communicating so much easier, which is needed when working remotely. So, now we don't need to over think and read between the lines of the one x instead of two!
Your craft skills are now next level!

Image of Tracey Emin via Nowness Instagram
Now you have more time on your hands to do the things you have always dreamed to, do your craft skills are on point. What's even better is now you have a bunch of hand made presents to give to your friends, so you can save some money and give someone a gift that is even more sentimental.
Remember for the time being.
Stay kind. Be well, and stay home if it's humanly possible.
Text by Peigi Mackillop